Introduction To Version Control With Git
1. Version Control
Version control is the practice of tracking changes to any kind of data like code, documents, or artwork. Version control systems provide a complete change history and allow versions of the same data to be manipulated separately.
2. Git
The entire change history is kept in git repositories. Git repositories can be manipulated on your personal computer or shared with others on websites like GitLab.
4. Hosted Git Basics
GitHub and GitLab are online platforms used to collaborate and **

store repositories. ** To edit a repository stored on GitHub or GitLab it must be cloned. GitHub and GitLab provide forking capabilities which are similar to branching.
4.1. Clone A Repository
git clone allows editing of a repository on GitLab. git clone downloads the repository from GitLab into the current working directory.
To clone a repository navigate to it's page on GitLab and copy it's clone link: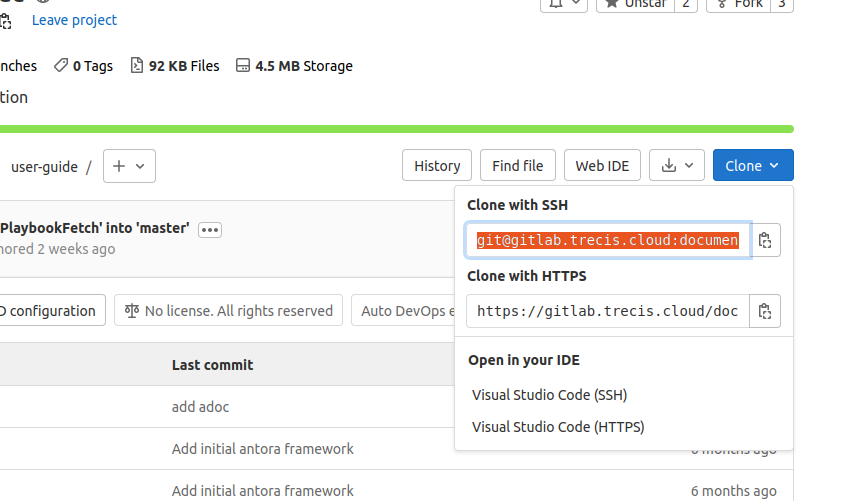 Next use git clone with the link as follows:
$ git clone git@gitlab.trecis.cloud:nbc170001/docs-science-support-meeting-minutes.git
4.2. Push To A Repository
git push allows users to make changes to the repository stored on GitLab. git push uploads the local snapshot of the repository to the online repository.
To push yourBranch to the online repository do:
$ git push origin yourBranch
4.3. Fork and Pull A Repository
Forking allows users to make their own copy of another person's repository on GitLab which they can freely edit.
To fork a repository navigate to the repository on GitLab and select fork: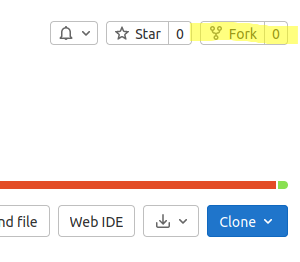 To make changes to your fork, clone the repository and push your changes.
Pulling is how changes are made to a GitLab repository based on it's fork.
To submit a pull request navigate to the original repository's GitLab page and do compare and pull request button: